October 2, 2020
Posted by:

cody_crumes

Category:

Medicare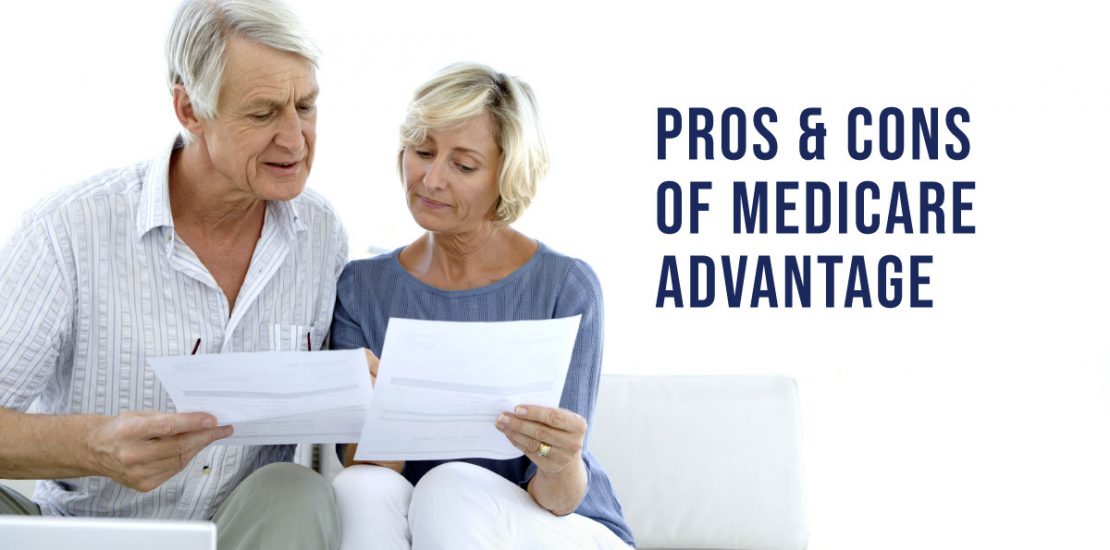 Medicare Advantage plans, or Medicare Part C, are popular private insurance alternatives to traditional Medicare. In fact, about one-third of Medicare beneficiaries are enrolled in a Medicare Advantage plan — a number that has nearly doubled in the last decade. While these plans often cover stuff that Medicare does not, copays and other out-of-pocket expenses can be higher. Let's explore some of the pros and cons of Medicare Advantage.
Understanding Traditional Medicare
Medicare can be confusing, so it's important to first understand what the various parts cover and how they fit together. Traditional Medicare has two parts:
Medicare Part A. Part A is hospital insurance. It covers some inpatient hospital care, limited skilled nursing care, hospice care and other specified services. Part A is typically premium-free.
Medicare Part B. Part B is outpatient insurance. It covers some doctors' fees, outpatient hospital visits and other specified medical services and supplies not covered by Part A. Part B has a standard monthly premium based on income.
Traditional Medicare has deductibles, copays and other out-of-pocket expenses that can add up quickly. To cover this, private insurers also offer supplemental plans known as Medigap. Medigap premiums depend on the insurer, where you live and the exact plan. If you sign up for a Medigap policy when you first enroll for Medicare, you can't be denied and the insurance provider can't charge you more for pre-existing conditions. Lastly, Medicare Part D is also offered by private insurance companies and covers prescription drugs.
So, What Exactly Is Medicare Advantage?
Rather than a supplemental plan and traditional Medicare, Medicare Advantage plans combine Part A, Part B and usually Part D into one, convenient plan. They cover all Medicare services and many also offer extra coverage for dental, hearing and vision.
Most Medicare Advantage enrollees pay no additional premiums (other than Part B premiums). However, most Medicare Advantage plans come with unexpected expenses when you get sick, since copays and other expenses can be higher. What these plans pay may also differ depending on your overall health. This makes it harder to budget for healthcare.
In general, most Medicare Advantage plans offer fewer choices when it comes to healthcare providers, as these plans work similarly to employer-provided group health insurance. With traditional Medicare, you can choose any doctor who accepts Medicare (most do), but with Medicare Advantage, you are required to visit in-network providers on HMO plans and may pay higher copays or coinsurance if you go out-of-network with a PPO plan. Medicare Advantage plans are also regional, so if you move or travel, you may not be covered.
Medicare Advantage Details
When it comes to Medicare Advantage plans, there are many details and a lot of fineprint. Overall, Medicare Advantage plans have fewer upfront costs, but the potential for high out-of-pocket expenses is greater. Contrarily, Medicare + Medigap has higher upfront costs but covers a vast majority of expenses if you get sick. You can switch Medicare Advantage plans during annual enrollment periods, but if you want to switch to traditional Medicare, you may find you no longer qualify for Medigap policies or may be charged at a higher rate.
In Summary
Medicare Advantage Pros
Extra benefits (ex. dental, vision, hearing, etc.)
Many different plan options
Cost-effective, if you remain healthy
Medicare Advantage Cons
Network of providers
Lack of out-of-region coverage
If you get sick, more potential out-of-pocket expenses
While Medicare in general can be confusing, Medicare Advantage plans add another layer of complication. That's why it's important to speak to a qualified Medicare agent to help you make informed decisions that are right for you and your family. Contact Crumes Insurance today!